Performa™ 6000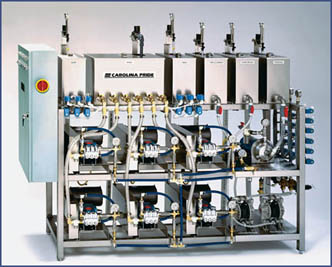 The PERFORMA™ Series is available in three system configurations. The PERFORMA™, PERFORMA™PLUS and the PERFORMA™PLUS HIGH EFFICIENCY BOILER.
Cat Pumps are standard equipment with PERFORMA™ wash systems. Stainless steel is used to fabricate all frames, tanks, pump motor bases and belt guards. All motors include quick-change electrical receptacles and connectors for easy servicing of equipment.
PERFORMA™ motor control centers are U.L. listed and completely pre-wired.
Only one electrical connection is required to provide power to the complete system.
Standard features included for each of The PERFORMA™ Series are:
hose installation package, brush with wands, digital display timers, bay signs and more.
Download PERFORMA™ Brochure
Performa™ Plus-RO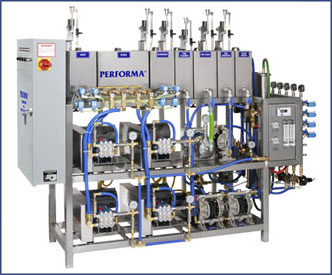 The PERFORMA™ Plus Wash System comes as a complete system from pre-soak and high-pressure soap, rinse, wax, tire cleaner foam brush.
Onboard R.O. Production and Spot Free Rinse Delivery.
Also comes with optional Bug Remover.
Our Standard Features On The PERFORMA™ Plus System Include:
Hose Installation Package, Brush With Wands, Digital Display Timers, Bay Signs and More.
Download PERFORMA™ Plus Brochure
Performa™ Plus High Efficiency Boiler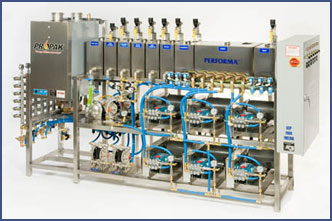 Below are features of the boiler system made by PROPAK™:
Standard hot water on demand
No storage tanks required
Compact Design
Up to 99.8% Efficiency
All Stainless Construction
Completely assembled, wired, and factory test-fired prior to shipping.
Ultra-High Efficiency means low stack temperature - Sealed Combustion means no ventilation openings to the outside. Both Exhaust and air inlet use PVC pipe.
Modular component construction and self-diagnostic microprocessor controls provide for easy trouble-shooting and maintenance.
Download High Efficiency Boiler Brochure
Express Series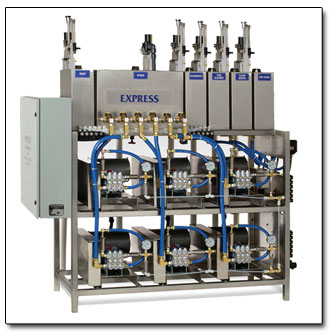 Standard features included on the Express 6000 are: Cat pumps, Air Diaphragm Pumps, Stainless Steel Tanks, Frame, Motor Bases, Bay Signs, Bay Meters, Individual Bay Transformers, 3 HorsePower, 3 Phase Motor, Automatic Fluid Level Control, Automatic Weep Freeze System, Hose Packages, 360 Degree Booms, U.L. Listed Industrial Control Center, Hogshair Foam Brush and 180 Degree Booms.
The following options are also available: 5 Horsepower Motors, Low Water Safety Shut-Off, Rinse Tank Immersion Heater and Automatic Weep Freeze System.
The rinse tank is ported for optional low water shut-off and tank heater.
Stainless steel check valves and Glycerin filled gauges are standard.
Stainless steel Solenoid valves with Din Connectors for soap and clearcoat protect.
Regulators for Air Manifolds and FLOJET pump.
Low pressure functions include: tire cleaner, pre-soak, foam brush.
Download Express Brochure
Compact Series
The Compact 1000 is available as a one or two bay system.
The system includes the following: foaming tire cleaner, foaming pre soak, high pressure soap, foaming brush, high pressure rinse, high pressure was, air compressor, 3 horsepower motor, Cat high pressure pumps, belt drive, trigger safety wand, hogs hair foam brush, hose installation package, U.L. listed.
The Compact 1000 is ideal for retail car washes, detail shops, car dealerships, garages and apartments.
Download Compact Brochure
Contact us or click here to request more information.